Products






Order Form Pastured Poltury
We have been raising chickens for meat since 2006, using the Freedom Rangers for the last several years. Freedom Rangers are what is called a terminal cross of different breeds. This helps to give the birds hybrid vigor which allows them to grow better than their parents. We also like this breed because they do more than just go from feeder to waterer and back. They graze fresh pasture daily once they come out of the brooder and many take short flights in their pens.

The chickens eat an organic, non-GMO, soy free feed along with whatever grasses, forbs and bugs they find. They also occasionally get some surplus goat milk from our milking does. They are not vaccinated or given antibiotics at any time. If medical treatment is needed Homeopathic is the preferred modality.

To minimize stress on the birds we process our chickens here on the farm where they are raised under the WA State Department of Agriculture Pastured Poultry Permit. We use our own stainless steel equipment that is cleaned before and after every use. Quality control for processing day starts with deciding which birds to process first and does not end until you pick up your birds. The rare bird that comes through with plucker damage or had an injury is kept by us for our use.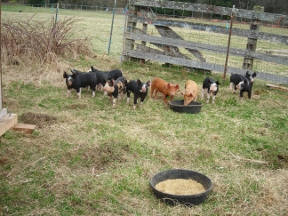 Pastured Pork
Each spring we purchase 10 weaner pigs from a local pig farmer that we raise on organic, non-GMO, soy free feed in a pasture setting. The pigs are a Berkshire cross. This breed is known for its wonderful flavor and eating experience and has been used for many many years to enhance other swine breeds. Once the weaners are settled in they enjoy fresh pasture on a regular basis depending on how fast they utilize their area. We use portable electrified netting to keep the pigs where we want them and be able to efficiently create new areas for them in the tall grass, Japanese Knotweed and blackberry patches.  Along with their pasture and daily ration of organic grain they also receive occasional organic produce, surplus eggs from the laying flock and some milk from our dairy does. Other than the initial trip from picking them up at the breeder's we do not transport our pigs. This minimizes the stress they go through thereby keeping the quality of the meat high. The custom butcher comes to the pigs on a date scheduled 1-2 months in advance. By using a custom butcher, you get to select the cuts of meat you like in the sizes that fit your family and special occasions you may have.
Eggs
Our laying flock is representative of the home flock in that we have a wide variety of breeds (about 10) of chicken, and a goose.  We like the variety as it does make it easier to watch individuals and we allow the birds to live out their lives with us as we see the older birds as being wiser in that ongoing predator/prey story. The laying flock recently moved to new quarters and we are searching for a trailer to convert to a portable eggmobile so the flock can enjoy fresh pasturage along with their organic, non-GMO, soy free feed.  They also polish off leftover organic vegetables, fermented foods and some meat from the house.
Contact Us at:barnyard@akylafarms.com