Our Blog
July 17 2019
Chicken faq

It′s about that time again for chickens and wanted to answer some of your questions about our chickens. If I don′t get to your question please ask. What do your chickens eat?

When the chicks arrive we start them on hard boiled eggs (from our flock of organically fed chickens) and raw goats milk (from our dairy goats that are fed a non grain, mostlry organic diet) for the first day. Then for the rest of their time in the brooder they eat a certified organic grain mix. When they go out to the pasture the grain mix transitions to a grower feed, also certified organic. Their diet also consists of grasses, seeds, other vegetation and any bugs that happens to wander into their pen. How Long does it take for the chickens to grow?

About 10 weeks, the first 3 are in the brooder and the rest is out in the pasture pens that are moved daily to fresh pasture. What is the average weight of a chicken?

4.4 lbs is the average weight. The birds grow about an additional half a pound in the week between the processing dates, so if you would prefer more lighter weight birds select the first weekend for a batch, the second weekend the birds will be a bit heavier. The weight range is 3.3 to 5.9 lbs per bird. How long have you been raising meat chickens?

We started in 2006.

Are the birds cleaned when I pick them up?

The birds are defeathered and gutted, they look very similar to what you would find in the grocery store.

When can I pick up my birds?

We try to have the gate open by 2pm on processing days. We process the birds in the morning but don′t always get an early start and may still be processing or cleaning up/getting ready for packaging at 2. Our next processing days are July 20th , 21st and 27th. Do you have birds available at other times of the year?

Because we prefer to process our own birds for quality control, the chickens legally have to go directly to you, the consumer, within 48 hours of processing. We also only raise birds in the spring/summer months and our processing setup is outdoors so processing in the wetter/colder months of the year is not a viable option. Can I come watch processing?

We enjoy knowing that our customers can watch us and see for themselves how their food makes it to their table, just let us know that you want to come so we can open the gate for you to come in. We usually are processing from 8am to noon on processing days. How much do you charge per lb?

$6/lb which makes the average bird $26.40.

What breed of chickens do you raise?

Freedom Rangers. The genetics come from France and the Label Rouge Program that denotes high quality pastured chickens. Are the chickens organic?

They are not certified organic but are raised organically.

Let me know if you have a question that I did not cover.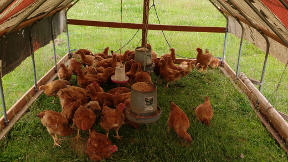 May 9 2019
"If it′s not 1 thing it′s 5 others" has become one of my mantras. My life is very busy and I′m sure yours is too. I recently learned that we can only make so many decisions in a day and that coupled with having only have so much energy each day means that many things don′t get done if they are pushed off. For some of us just getting out of bed can take a good percentage of our daily energy allotment. For others making daily routine decisions like what to eat for dinner is not easy after a long day of decision making at work or with the kids.

One thing that I have learned that really helps my day flow, especially at the end of the day is to have a meal plan. I usually try to set it up each month, but for others a weekly plan works well. The monthly plan has worked well for me because I have been stocking up on the staples that I need based upon the meal plan through a distribution company. Am thinking about switching to a weekly meal plan because this means that I only need to come up with 7 meals instead of the 28. Also, I don′t do the monthly stock ups as much as I used to because I want to support local.

Here are 2 templates to download that I use for meal planning. The monthly one is actually 28 days and I usually put in any day long events or evening meetings as then I can plan for leftovers or quick and easy meals for those nights.

The weekly one is actually my Weekly To Do template where I use the table portion to put in any appointments, things to do that day, planned meals, etc and then the bottom portion I use for other activities that I would like to work on for the week, including any groceries that I may need to acquire.

Let me know if either of these help you. There are also phone apps if you prefer that route.

Early next month, June 1st and 8th is processing for our first batch of chickens this year, if you havenít put in your pre-order yet we would love to see it. We also have plenty of eggs available.

Looking forward to seeing you in early June when picking up your chickens.

Carol
Download Links
Monthly Meal Planning Chart blank.odt

Weekly To Do List template2.odt


March 7 2019
Despite the white stuff falling and the blanket of white still in Birdsview from last months weather, Spring is coming! Along with the warmer temperatures and new green growth comes goat kids (first ones are due any day), chicks, piglets and eggs. It also means that we are starting to gear up for the production season and are ready to take pre-orders for chicken and pork.

For chicken that tastes like what Grandma used to have, we have some in the freezer from last year for $6/lb, just let us know when it would work for you to stop by or depending on how many you would like we could deliver.

If you want to get your Chickens day of processing fresh or Pastured Pork or Grass Finished Beef please fill out the pre-order form and send it in with your deposit. We can also take deposits via credit/debit over the phone or in person if you prefer. This will put your name on our Pre-ordered list to keep you in the loop as processing dates get closer.

Fresh chickens will be available the first 2 weekends of June and the last 2 weekends of July. On these dates we will be processing in the morning with pick up available in the afternoon here at the farm. If you want to see the processing we just need to know to expect you to have the gate open. will be processed multiple times during the summer months, usually early June, early August and late September. Pork and beef are processed based upon when they are at finishing weight which we try to aim for October but it doesn′t always work out that way.

For eggs from organically fed hens that roam the barnyard, scratching for bugs just give us a call/text at 360-941-1533 or Email to make sure that the ladies are laying an ample supply and we can set some aside for you to pick up at your convenience at the home farm in Sedro Woolley. Eggs are $6/doz, cash or check works great and credit/debit is also an option.

If something doesn′t make sense please just tap here and let me know so that I can clarify.

As always if you have any other questions or want a tour of Akyla Farms just let us know.

Thanks for supporting a local small farm

Carol